Performances
Stages is a platform for emerging artists, working in all disciplinaries, based in any of the Nordic countries. Of more than 300 applications the curators for Stages have selected five works. They will all be presented during the festival.
---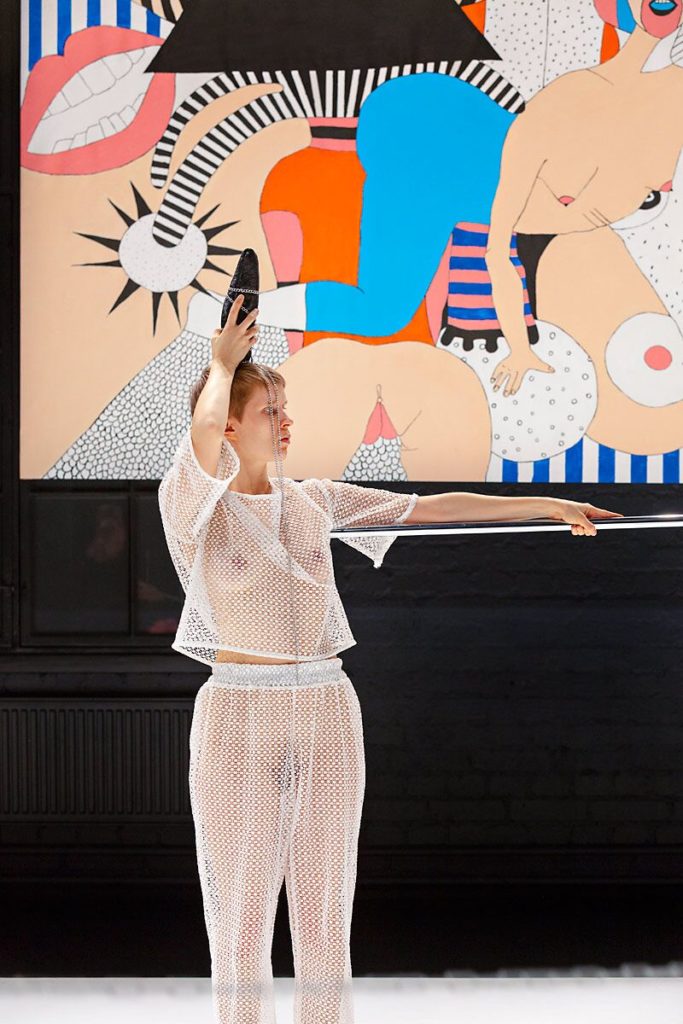 Photo: Simo Karisalo
Blab / Sonja Jokiniemi
Sonja Jokiniemi's new work Blab is a hybrid performance, a blend of painting, sculpture and choreography. It seeks to escape the world of categories towards the unknown, towards unions and blurs of humans and objects, extensions and expansions of different bodies, penetrations of forms and acts of desire. The work unfolds itself in the transforming multisensorial sculpture, the essence of which charts a subconscious territory.
The mind of the performance is built on a foundation of linguistic indefinability, senses and reflexes. The work explores lumpy, tangled thought processes that have neither beginning nor an end.
Sonja Jokiniemi is a performance artist and choreographer based in Helsinki, Finland. She makes transdisciplinary work with research interests in thing ecologies, language and thinking structures, neuro and psychodiversity. Her projects take form in performance, drawing and community engaged works. Jokiniemi graduated from DAS Theatre, MA Degree programme in Performing Arts in Amsterdam 2013.
Concept, choreography & visualization: Sonja Jokiniemi
Performers: Ivo Serra, Mira Kautto & Sara Gurevitsch
Lighting design: Heikki Paasonen
---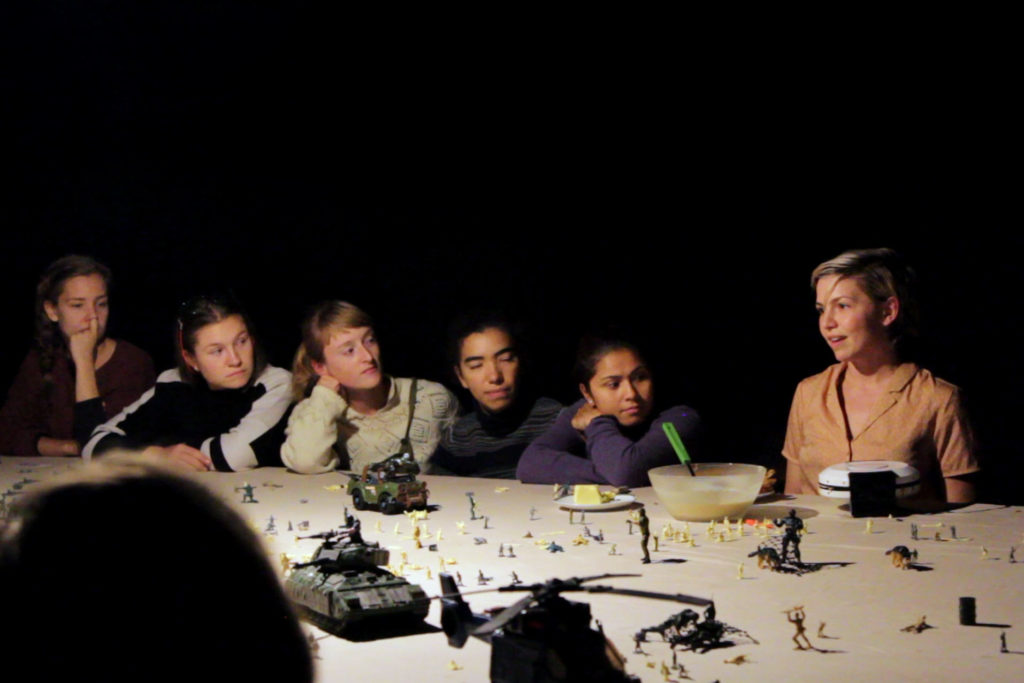 Photo: Marina Popovic
There is a Noise / Hestnes & Popovic
From the diary of a 16 year-old in 1945, to a child's escape from war in Sarajevo, to
Scandinavia today. There is a Noise brings to surface the research of how a personal story can find its place in
public and the necessity of investigating the personal in our common history.
The audience is invited to sit around a table while stories unfold around them in the midst of frying waffle ooze. There is a Noise is an invitation to a memory, an exploration of the landscape between what we know to be true, what we've heard and that which we can barely remember. There is a Noise poses questions of how to approach a memory that strongly diverge from one's cultural surroundings.
Freya Sif Hestnes and Marina Popovic met while studying at the Norwegian Theatre Academy in Fredrikstad, Norway. Through a common interest in memory, photography and personal documents, they research how certain life events manifest themselves in objects as carriers of memory.
Idea/Direction: Freya Sif Hestnes & Marina Popovic
Performers: Freya Sif Hestnes & Marina Popovic
Sound design: Marianna Sangita Røe
---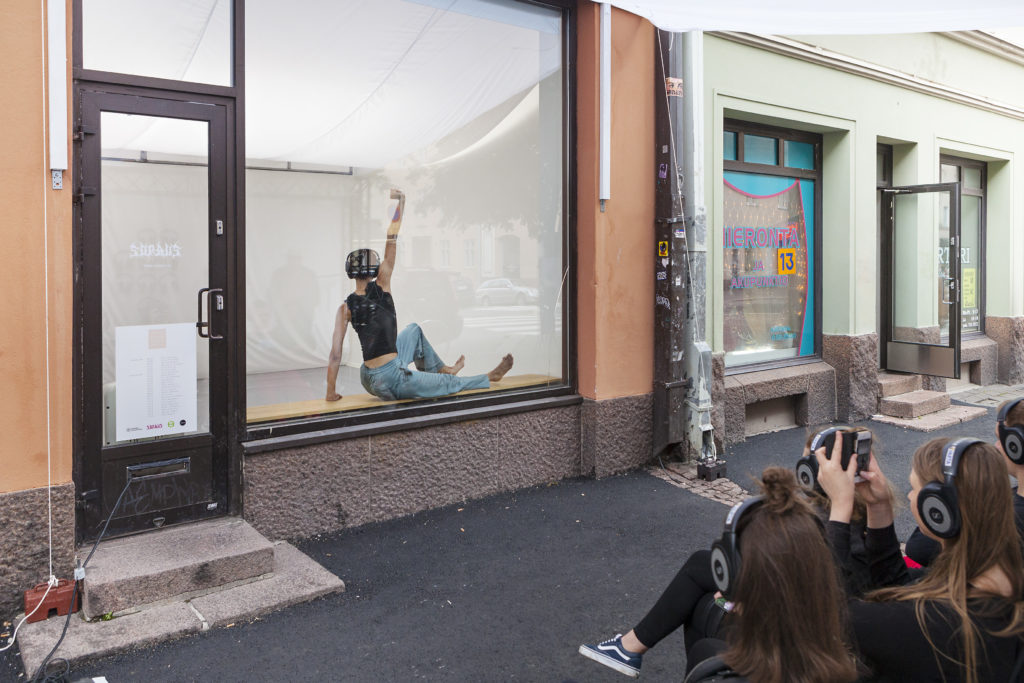 Photo: Simo Karisalo
Tysta danser / Wilhelm Blomberg & Maja Hannisdal
Tysta dancer is a durational dance installation, which deals with the tension between people as observers, contra people as performers. The performers choose an hour of music, put on headphones, close their eyes, and surrender to music and dance. The audience is invited to listen to the performer's music choice through headphones or observe the performance in silence. The work is flirting with the notion of voyeurism through a mixture of dance, street performance and visual art. 
One of the essential goals of the installation is to strive for a point where we lose all inhibition, to reach a state of being where one can disappear into a pure experience of movement separated from all social aspects connected to the idea of performing. The audience is invited to observe, free from the supervision of the performers gaze, creating a voyeuristic freedom and at the same time a tension in the individual audience member's relationship to the performer.  
Koncept: Wilhelm Blomberg & Maja Hannisdal
Spatial design: Ilmari Karhu
---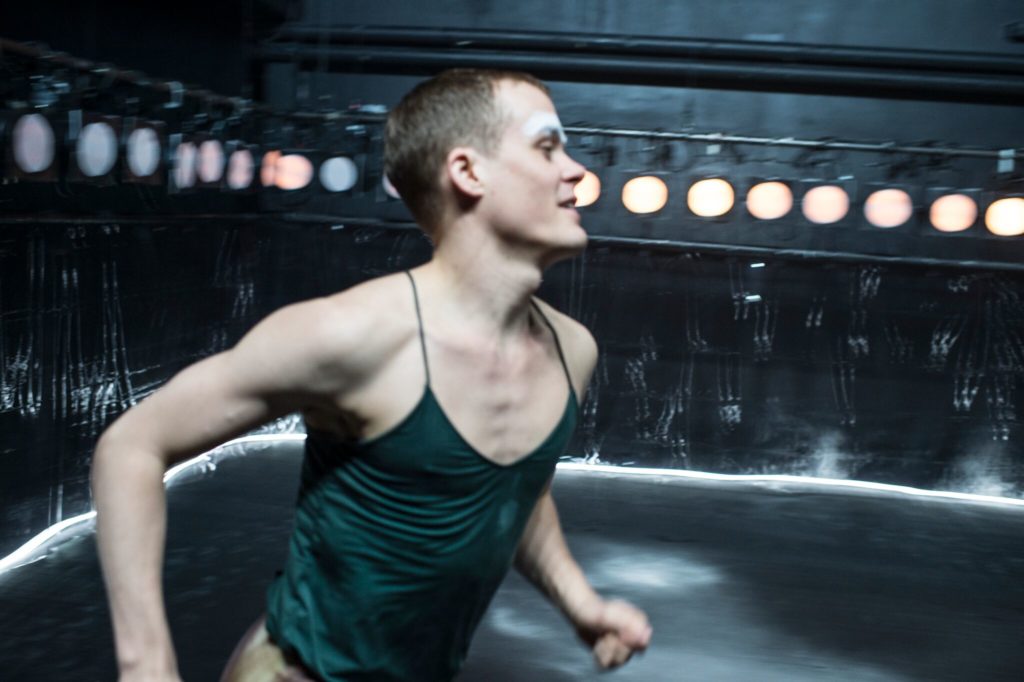 Photo: Chrisander Brun
In the Distance, Troy / Magnus Myhr
In the Distance, Troy expresses an experienced outer and inner conflict between femininity and masculinity in a man´s body. Magnus Myhr uses his own experiences to investigate a taboo in our present time: that of exceeding gender norms.
Magnus Myhr has performed in both dance and theatre productions since 2007. His work is usually based on personal experience and concerned with themes relating to adolescence, the performance of gender and the innate vanity of human beings.
---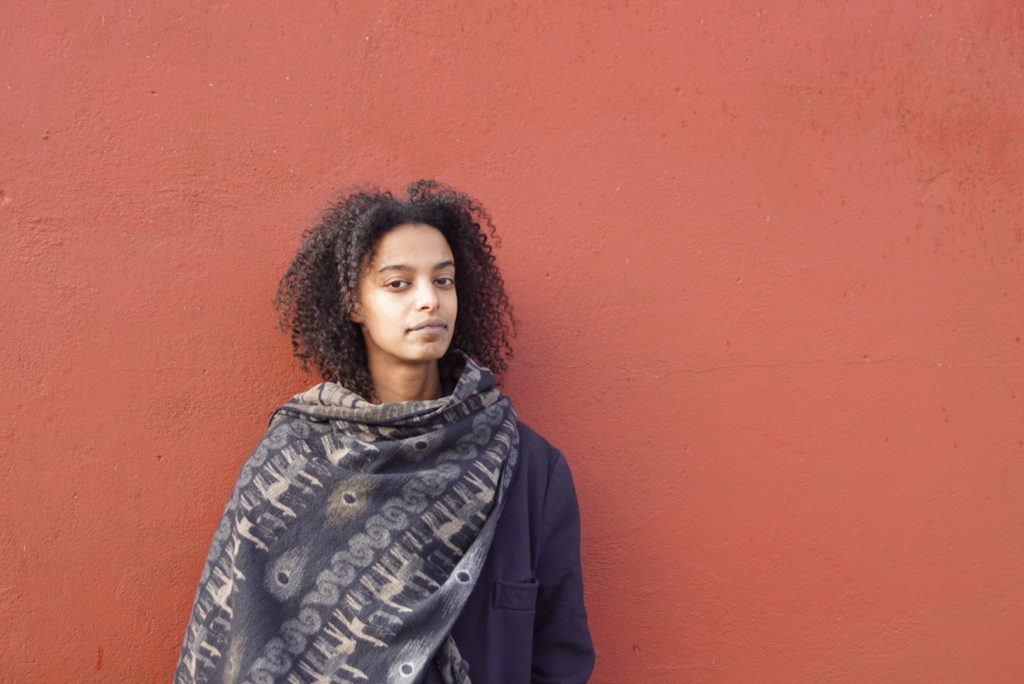 Photo: Ingvild Bertelsen
In Front of / Meleat Fredriksson
Meleat Fredriksson from Denmark invites the audience to a dance solo in which the styles are freely mixed. Meleat's work focuses on rhythms, improvisation and rapidity. In Front Of is about a choir of sorts. A choir that transforms into thoughts that ask and answer that in turn become judgments, confirmations and affirmative words.
Meleat Fredriksson is a dancer and a choreographer based in Copenhagen. She usually works with open structured improvisation as a way to investigate how the body and mind can be aware of it´s choises.